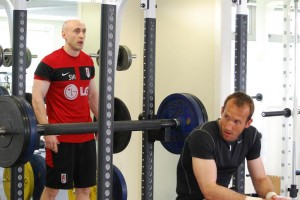 Working with elite athletes is a passion of mine and when the opportunity to help Mark Schwarzer prepare for the 2010 World Cup in South Africa came up, I jumped at the chance. Little did I know how inspiring he would be for me; what a driven, top professional he is and how hard he would work in the gym. Although I had been advising Mark on nutrition and supplements for about 18 months, we started working together more seriously in January 2010.
Initially I did some assessments on Mark including working out his body fat percentage and lean muscle mass, and conducted a structural balance assessment to establish where Mark was weak and what muscles were imbalanced. Upper and lower body structural balance testing has been developed by world-renowned strength coach Charles Poliquin and for those wanting to know more on this should visit www.charlespoliquin.com. From this data and with the knowledge of the performance requirements for a goalkeeper I designed Mark a 17-week strength-training programme to get him in better shape, peaking for when he leaves for South Africa.
The first thing to consider is the physical requirements of a goalkeeper are much different to that of an outfield player. Body fat percentage and energy system demands are very different. Body fat should be as low as possible, however I would accept around the 10% mark for a goalie rather than the 6-8% for an outfield player. Decreasing body fat and increasing lean muscle mass improves a goalies strength to body weight ratio and can increase explosive strength required for diving, coming for crosses and closing a striker's angle down when through on goal. However in January 2010 Mark was 93.6kg, 14.9% body fat and 80.4kg lean mass. The first 6 weeks of Mark's programme incorporated two 3-week phases of body comp work 4 days a week designed to strip body fat. These programmes incorporated training the upper body twice a week and the lower body twice a week. The first obstacle was assuring Mark that training four times a week would not be detrimental to performance.
Part 2 coming soon….
Article and pictures published with the kind permission of Fulham Football Club.