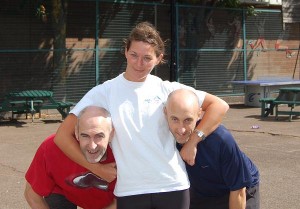 We are Peak XV Fitness, a health and fitness company specialising in outdoor fitness workouts for women. We run boot camps in two locations – the first being Caversham in Reading where we originated and we also run sessions on Wandsworth Common in London. We offer both individual and group workouts tailored to our client's individual needs. We also provide for our outdoor fitness clients a nutrition manual designed by a leading nutritional therapist.
Our fitness bootcamp  is based in the delightful setting of Christchurch Meadows, right in the heart of Reading, on the River Thames. With a small group of around 20 members we meet four times a week to put the group through their paces. The sessions are lead by Chris Hines who is also a very experienced personal trainer in Reading.
Chris focuses on helping his clients get the best from their fitness routine with out being overbearing. Encouragement is very much the name of the game and all the members are pushed to their own individual limits.
We have been operating our boot camp for 7 years giving our customer great workouts and helping hundreds of local women, just like you, drop pounds on unwanted and unsightly body fat. Chris is a great believer in holistic health and treating the body as interconnected system. Peak XV's clients get expert advice on fitness, conditioning, nutrition, supplementation and injury rehabilitation so each member gets the very best out of their membership. Steve is a certified nutritional therapist and offers nutritional guidance for people wanting to lose weight and get in shape.
Our outdoor fitness workouts will hep you banish the bingo winds, burn that spare tyre and slash the saddle bags once a for all, no matter what exercise or diet you have tried in the past.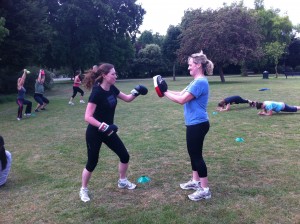 We operate year round and in all weather. Our group workouts take place on Wandsworth Common Tuesday and Thursday from 7-8pm and on Sunday morning from 10-11am. We meet on the corner of Bollingbrook Grove and Nightingale Lane. Our Wandsworth sessions are led by Steve Hines who along with being a leading fitness professional is also a highly respected physio in Wandsworth.
We keep out groups small (10 to 12 max) so the trainer to client ratio is low and you get personal attention and coaching during the class. The use of kettle bells, medicine balls, boxing, skipping, ladders, hurdles, bands, TRX, dumbbells as well as legs, bums and tums Pilates workouts
We specialise in varied and entertaining workouts, non military, no shouting and no "drop and give me 20″. We also provide homework workouts designed so that you can train at home or on holiday delivered to you each week via email or on YouTube. And the great part is that there are no dark dingy gyms, staring at the wall whilst on the treadmill as you exercise outdoors in the fresh air, the light and the sunshine (or the rain).
Steve Hines is also a certified Nutritional Therapist and runs his own practice in Wandsworth Town called The Front Line of Nutrition which specialises in helping women who want to lose weight and fell great about themselves. Along with providing the nutritional support for all of Peak XV Fitness members, Steve also runs private Pilates classes which can be booked with him.