Could joining PeakXVfitness Wandsworth Common womens outdoor fitness bootcamp
be the answer to your New Year weight loss programme? January will undoubtedly
see a huge rise in the number of people who want to lose weight, get fit and become
healthier. The gyms will be packed with people with good intentions slogging away
on the treadmill. But the sad fact is that by February and March, there is a huge drop
 off in the number of people who joined the gym.
This happens for a number of reasons. First and foremost people get bored. Most
people who go to the gym are not experts in the fitness industry and do not really
know how to design themselves interesting and effective training programmes.
Unless you can afford a good personal trainer who changes your programme often
and can keep you motivated you will very likely get quite bored of doing the same
routine in the gym. But this can be expensive as the going rate for a personal trainer
is about £40 an hour, and that's on top of your gym fees. So if you want results from
the gym it could cost you about £400 a month! Secondly, people don't see the
results they were hoping for. In 2-3 months of good training you should be able to
lose anywhere from 6-10kg and up to 10% body fat. However this is rarely achieved
probably due to the fact that people don't know what to do and get bored.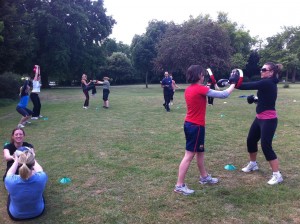 Why would joining PeakXVfitness Wandsworth Common womens outdoor fitness
bootcamp help you? Group training like this provides a safe, sociable and comfortable
environment in which to train. You won't feel self conscious, out of place or like a
fool as many people do in the gym, you're not surrounded by grunting, sweaty males
throwing their weights around and as with any group programme there is a great
support network that provides accountability and motivation. These two things
along, regardless of the training programme, will give you a better chance of achieving
your fitness and weight loss goals.
PeakXVfitness Wandsworth Common womens outdoor fitness provides great
workouts every time. These workouts are designed by experts in the fitness industry
meaning all you have to do is turn up and do the session to get the results. It's like
having your own personal training to tell you what to do and encouraging you
through each workout. You may be challenged to do kettle bell, medicine ball, band,
dumbbell or bodyweight resistance exercises; you may be put through Tabata
training, skipping, boxing and core workouts and high intensity interval training –
workouts that are proven to help you lose weight. As many of our customers can
attest we guarantee results.
You know you have a good health and fitness expert helping you when they are
more interested in YOUR results than anything else. This is why nutrition support
is vital and this advice should be provided for you. But not just nutrition support
provided by personal trainers (who invariable have very little nutrition training),
but by qualified nutritional therapists with an expertise in weight loss.
You may have heard that getting your nutrition right is half the battle; well we would
suggest that it contributes to up to 80% of your results. So if you get the wrong advice
or even more alarmingly decide to go on an unsupervised diet you are doomed to fail.
Very few people who go on a diet reach their weight goal and can maintain it long term
unless they are supervised, encouraged through the difficult times, provided accountability
and motivation.
If you want to get in shape this New Year with Wandsworth Common womens outdoor
fitness bootcamp visit www.peakxvfitness.com/bootcamps to find out more.