10 hardy souls braved the rain this morning at PeakXVfitness' Finsbury Park Bootcamp. Zoltan, our regular Finsbury Park boot camp instructor and myself put the campers though a tough circuits work out with a lot of abs exercises to tone up the core.
Finsbury Park Bootcamps circuits
Included in the circuits were bicycle cross crunches, planks and partner re-bounds (where you partner pushes your legs to the floor and your lift them back up again). Plus there were kettlebell exercises skipping and medicine ball drills to keep the work rate high and build some much needed muscle. You see the more muscle you have –  the more fat you will burn, plus doing weight training is THE best way to burn fat!.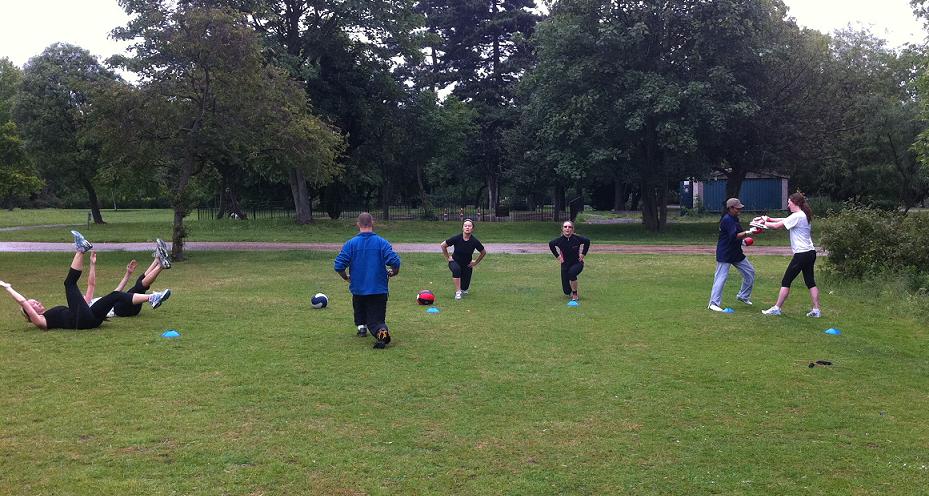 Finsbury Park Bootcamps Tabata
After 3 rounds of the circuits we did a Tabata run. I chose this as it's only 4 minutes of high intensity work and the grass was getting slippy.  Each camper would sprint between cones about 40m apart as hard as they can for 20 seconds, after which they got 10 seconds rest. Sound easy? Well they had to do this 8 times! This means they get hardly any rest before having to sprint full out again. This really gets the heart arte up and this type of interval training has been shown to raise your metabolism for much longer after you have finished exercising (this basically equals a greater fat burning effect!)
We stretched under a tree to keep out of the rain and Sundays Finsbury Park outdoor fitness class was done, the guys earned a well deserved hot shower!