In this article I'm going to review the best treadmills I have found this year for different situations. People use treadmills for different reasons and have different needs when it comes to choosing one. Some people need a small or folding one because of a lack of space while others want one with all the whistles and bells to keep them entertained while they work out. I'm going to review the 5 treadmills that I recommend the most and highlight the pros and cons of each one.
Branx Elite Runner Pro
I like this treadmill because it is a great choice for all kinds of ability levels. Whether you're a beginner or an elite runner you will enjoy using this treadmill. Some of the main features are that it has a large running area so there is variability in foot placement. It folds up well so can be stored away and doesn't take up much room. The fan feature is great for people who want a cooling effect when they run. The one touch button features for both speed and incline are great if you're running fast and you don't want to mess around with buttons while you're running at a quick pace.
It is solid and durable and easy to set up. The company sends an engineer to piece it together and set it up for a small extra fee. The programmes are easy to use and fun and there is good customer support and after care. While not cheap it is certainly value for money and would be one of my recommended choices for use at home.
ATR Motorised 10km Treadmill
This treadmill is in the more affordable range and is popular because it is pretty lightweight and is easily moved for storage. If folds up nicely and has 3 programme settings which isn't bad. It has basic readigns such as speed, distance and calorie count. For a budget treadmill the running bed is quite supportive and the incline is manual so you can replicate running up hills. If you're on a budget then this is a solid choice and with a 12 month warranty you can't really go wrong!
JLL S400 Premium Digital Treadmill
I like this treadmill because it is foldaway and has built in wheels which means it's easy to move around. It has a great shock absorbtion system and for a mid price treadmill is very good value for money. I like the LCD monitor on this model and it has a selection of programmes to choose from. This model also comes equipped with wireless Bluetooth technolofy which is great for audio comfort while running (no wires swinging around!). I particularly like that the machine is very quiet to run on and the motor is very smooth.
Confidence Power Trac Pro
This is another treadmill which is at the lower end of the price scale. It is robust and has manual incline settings but has a selection of 12 pre programmes to mix up your run a bit. It feels a little on the small side so if you're tall or have a long stride you may feel a little confined. Also the maximum speed is only 10kmh which will be fine for most people jogging but if you want to run faster or do interval training then it is pretty limited. Overall I would rate this as a great option if budget is a consdieration and if you are a beginner runner. If you want more whistles and bells and/or you're an advanced runner I would suggest upgrading to one of the more expensive options I've listed here.
Landice L7 Club Pro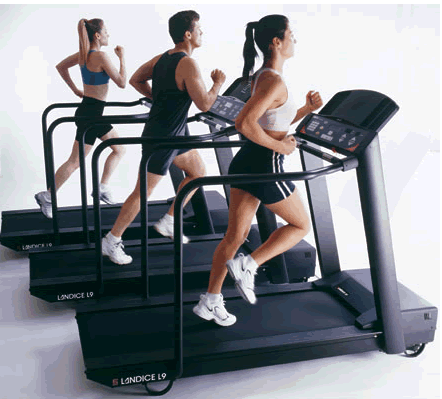 I have saved the best, and most expensive for last. Priced in the same range as a small car this premium, health club standard treadmill is still aimed at the home market. It is incredibly robust and made of high quality aluminium which is rust proof if you have to store it in a damp environment. What I really like about this model is it is so soft to run on. It feels sfoter than grass which is my preferred surface. It has a great selection of programmes and speed variations and allows for heavier people to be able to run on it which is always useful.
In this review article I have looked at 5 treadmills that I like and why I rate them. There is something here for everyone regardless of your budget. The cheaper treadmills obviously have their limitations while the medium to high end models have various extra features which some people may want to look at.