In this article I am going to review the best home rowing machines on the market and why I rate them so highly. I have been using rowing machines and ergs with my clients for over 20 years and recommend them for cardiovascular workouts all the time. Rowing is a fantastic cardiovascular exercise that particularly works the arms and legs. It can be a very intense form of exercise and I like to use it as part of High Intensity Interval Training (HIIT) workouts with my clients. Due to this intense type of training I need the rowers I use to be sturdy and durable so my clients can blast away on them. I'll start at the beginning.
Concept 2 Model D Indoor Rower
Every gym I've worked in over the past 20 years has owned this model of rower so nostalgia (and familiarity) are causing me to review it first. Not only is a great choice in the gym but I have also recommended this to numerous clients when they've kitted out a home gym. It is a very sturdy, reliable piece of kit at a very reasonable price. It's not cheap, but as you'll see it doesn't cost anywhere near some of the models I'm going to show you. It easily separates for storage and has convenient wheels on the base so you can move it around. The display is simple and straight forward and has a number of pre planned workouts (which I've used many times!). It comes with a long warranty (which is why it is the mainstay of all gym chains!) and is definitely designed and built with longevity in mind.
WaterRower Classic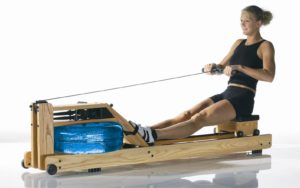 This beautiful handcrafted rower, made from black walnut wood, gives you an authentic water based experience. From the feel of the strokes to the sound of the water it really lets you feel that you're in a proper rowing boat. This will certainly appeal to the real rowing crowd who long to get back out onto the water. If you're not one of these people this rowing machine will still give you and incredibly smooth experience. I really like how comfortable the set is on this apparatus, particularly when you're spending long periods of time sat on it. It is sturdy but can be still be easily stored in your home. The display has all the settings you'd expect and you can easily hook it up to your heart rate monitor if you want some feedback on your workout. If you have the budget then this top quality rower is the choice I would recommend!
JTX Freedom Air Rower
In many ways this model looks and feels like the Concept 2 just without the sturdyness, however it is around half the price. So if budget is your biggest factor then this erg may be what you're looking for. It is easy to store and has a clean, smooth motion. It comes with a complimentary heart rate monitor which syncs with the digital display so you can effectively monitor your workout. Because it isn't as heavy duty as the some of the higher priced models it is lighter in weight and tends to have some lift at the front when pulled with strong force which can be a bit disconcerting but this will only be a problem if you plan on exerting that much force when you row. As a mid range option the JTX option is a sound choice for any home gym.
JLL Luxury Home Rower
The title of this rower is a bit misleading as it the cheapest of the models I've reviewed. That's not to say it's a bad rower, I feel it is the best budget choice, but it's not the most luxurious of the rowers on this page. That being said, I like this rower for what it offers at the lower price point. At a fraction of the price of both the Concept 2 and the WaterRower Classic it does have some reliable features. The resistance comes from a belt which is quite smooth and quiet and it has 10 different resistance settings. The display is ok and all the programmes have evrything you need. Because it is quite lightweight it folds and stores easily which is great if you're going to use it in your home or garage. The resistance may not be enough for any serious, or strong, rowers out there but for the price it is an excellent choice.
Body Fit Rowing Machine
This is the choice if you're seriously restricted by budget. It's design is very simple and you simply pull on an axis against a hydraulic pump. It's not as smooth or ergonomically balanced as the others but the price reflects this. This model folds up really small so is the best if space and storage are a priority. This model is very simple to assemble, certainly compared to some of the others and lasts well too. If you're prepared to lose some of the free feeling of rowing but price and storage are key for you then this rowing machine will be perfect for you.
So to wrap things up, if you have the budget then the Concept 2 would win every time, in my opinion. If you want to splash out and enjoy the feeling of rowing in real life then the WaterRower Classic works perfectly. Finally, if you're on a budget then my recommended choice would be the JLL Luxury Home Rower which is a step down, price and quality, from the Concept 2.