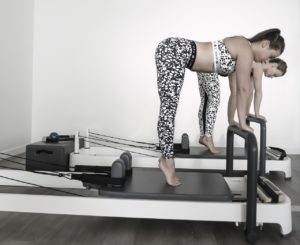 The Pilates reformer machine, sometimes referred to as a Pilates table or Pilates bed, is a high end piece of equipment which looks like a torture device but when used properly can be very powerful in toning your body and alleviating your back pain. It uses springs and gravity to add resistance to certain Pilates exercises that can't be done on a mat. The bed tends to slide on a set of runners and you either push or pull yourself during the exercises. If you are looking to buy the perfect Pilates reformer machine for you check out my recommendations below.
Pilates Star Cadillac by Yogistar
This really is the Cadillac of the reformer bed world. This model is the best Pilates machine on the market, in my opinion, and is what you will find in all the high end Pilates studios around the world and there is good reason for it. This equipment is made of high quality maple wood and has a beautiful appearance. The springs are made from aluminium and stainless steel which give it tremendous durability. It also means it is very sturdy and can accomodate larger people who weigh in excess of 100 kilos! As this ses up in the form of a large cage you will need room to put it in but it will fit comfortably into most normal size rooms. If you are kitting out a small studio or gym there will be plenty of room. It has several accessories that attach to various points on the frame – allowing you the versatility of pretty much every Pilates exercise invented.
Elina Pilates Aluminium Reformer
This beautiful model is another high end option. The slick black finish of this professional Pilates reformer is super comfortable. It folds away for easy storage and also can be used upright for different exercises so it is highly verstatile. I love all of the accessories and options this machine provides allowing almost all Pilates exercises to be completed. The high quality finish to this product means it's very smooth and quiet to operate. I also like the foot bar which is fully adjustable which means people of different heights can effectively used the machine. While this product is in the expensive price range it is rock solid and worth the investment for any serious Pilates practitioner. This model comes with a handy Pilates tower allowing even more exercises to be performed.
Wood Reformer by Elina Pilates
This reformer bed is a really nice studio quality machine which comes in a beautiful wooden finish. It is lightweight, compared to other machines, and is very easy to assemble so is perfect for the home. Elina Pilates is renowned for its quality and this peformer doesn't disappoint. It doesn't have as many attachments (or a tower) like some of the more expensive ones but the price tag reflects that. While not cheap this mid range option is a solid choice. The apparatus is smooth and the slider is comfortable which gives you a nice workout experience.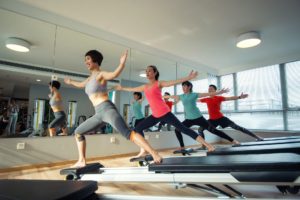 AeroPilates Pro XP Reformer
This is a great model which comes with the added feature of a rebounder (small trampoline) at the base which means you can incorporate light cardio exercises into your workout, which are very low impact. The machine is robust and while it doesn't have the finish or workmanship of some of the very expensive alternatives it is a very good mid range option. Due to its length you may not be able to store it upright and I think a solid platform to lay over the rebounder would be a good addition to the kit. The pulleys run smoothly and it is really easy to assemble. If you have less money to invest then this is the option I would go for.
AeroPilates 700 Premier Reformer
Another AeroPilates machine, this mid range option gives the user all the benefits of a studio workout at home. With a large rebounder it allows the cardio exercises to be performed. It has a foot bar which can be attached but it can only be set at 90 degrees which can be a bit limiting. The DVD which comes along with this model is very helpful if you are new to Pilates, although I would recommend you attend at least a few classes also to check your technique is correct. There is some assembly required but this is reasonably straight forward and you should be able to put it together in under an hour. The limitations of this reformer are reflected in the price and I would say it was one of the better lower end machines on the market.
Stamina 287 Reformer
Even though this is at the budget end of the spectrum it is a good choice for the price. Without all the whistles and bells of a lot of the other machines it does the basics well. The frame folds and has wheels which is great for movement and storage in the home but this obviously means it lacks the rigidty and sturdyness of the larger, more expensive models. This may take a little getting used to if you've used a heavy duty studio machine. With no column you have to do most of the exercises in a supine position, similat to a mat workout. All of the padding is comfy enough and the straps work well. You may also feel the resistance bands that come with the machine are not enough but you can buy additional ones which will do the trick. With its storage ability this would be my choice for a home Pilates machine.