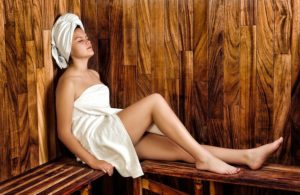 An infrared sauna is a device which uses heat and light to heat up the body but unlike conventional saunas they don't heat up the air around the person.
The health claims of these devices include detoxification through sweating mechanisms along with decreased pain and relaxation. Infrared saunas are much more convenient to have in the home because they heat the body directly with no change in ambient temperature eliminating the need to extra facilities needed by a conventional sauna.
Infrared saunas omit a light of 750 nanometres t0 100 micrometres in length and this can be beneficial to the cells of the human body, particularly to the parasympathetic nervous system which is involved with relaxation. These saunas can cause sweating, an increased heart rate and feelings similar to moderate exercise in as little as 15 minutes per day.
Research has shown that infrored sauna treatment can be ebneficial for reducing blood pressure and alleviating chronic pain as well as improving the quality of life and overall well being.
I am going to describe the best 4 infrared sauna units that I have discovered and why I like them so much. The first one I can recommend is:
Firzone FZ Portable Infrared Sauna
This sauna is great for the home and is easy to erect. When in place the dimensions are 96cm high x 68cm wide x 81cm long, about the size of a small phone box. The material is great and isn't synthetic which I like. For a home sauna it is powerful with a 1oo0 watts unit powering the light omission. It comes with a small chair which supports me perfectly, although may struggle for anyone a great deal bigger than me. Both are easily stored which makes it perfect for the home.
Redsun M Indoor Infrared Spa Cabin
This deluxe model looks like a more traditional sauna and can house up to 2 people. It obviously comes with a heftier price tag and takes up more space but if you have the room and the budget then I would definitely recommend it. It comes equipped with 5 high power infrared heaters with a temperature display that has good visibility. I love the radio and CD player that is installed in it as I love to chill out and listen to my tunes while I'm in the sauna. If you have any DIY skills it will be easy for you to assemble it yourself as it is pretty straight forward and doesn't have the problems with steam that are inherent with traditional saunas in the home. You may need to change the plug to a British 3 pin plug but after that it works as normal in the UK.
Redsun XL Indoor Moveable Infrared Spa Cabin
This high end model is probably too big to fit into most houses (unless you own a mansion) but fits well into a garage or outbuilding. It is beautifully made, spacious and will be affordable to anyone with a large budget. The cabinet consists of Hemlock wood which is a really dense wood and is perfect for stopping the heat from escaping from the cabin and heating up the surrounding room. It has 6 high powered infrared heaters and a CD player built in. The L shape design and beautiful finish make this model the most stylish of the ones I will be reviewing. However, at around the £2000 mark it requires a certain budget to acquire. You can put it together yourself but you may need to get a professional in as for DIY it would be quite a project.
Iglobalbuy Portable Infrared Slimming Room
This model is aimed at people who have a smaller budget. Whilst it does the job it isn'y as nicely made or roomy like the Redsun models. But you wouldn't expect that at the comparatively low price point. At 600 watts it has a reasonable amount of power. It may not look as nice as some of the other models but it does come with a foldable chair which is perfectly comfortable. Probably the best feature of this model is how quickly and easily it can be packed away and moved around so if you can't have it permanently in one place in your house then this is a great option. It folds down to the size of a suitcase so can be easily moved from one place to another.
Apollo Infrared Sauna
This awesome 3 seater high end infrared sauna is not cheap but it is beautifully made. With more room than the other models I've reviewed here it really is a wonderful experience. It come equipped with an air ioniser as well as a very nice music system. The finish of the wood is exquisite and the spa is really quite spacious and easily fits 3 adults. It isn't quick and easy to set up and you will need a large space to house it but it will be a treasured possession wherever you place it in your house. I really like the temperature controls on this model and the extra features are well made. If your budget can stretch to it this is the best, and most expensive, infrared sauna that I have reviewed but it is well worth it.
An in house infrared sauna unit can contribute to your health through detoxification and internal cleansing. Depending on your budget I have highlighted 5 different models that will help you. Starting at around the £200 mark the cheaper models are smaller and more portable and pretty much wrap around your body. The more expensive units will have to stay in situ (due to their size) but look much nicer and can be enjoyed by more than one person so are perfect for couples or families. I think the benefits of an at home infrared sauna are sizeable and I would encourgae you to look at one of these models if you want to buy one. I think they are a really investment into your health and wellbeing and any of these models will help you achieve that.