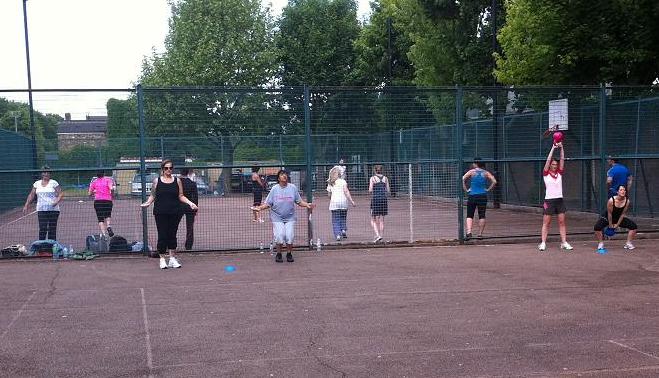 Balham bootcamps
I had the pleasure of putting 20 Balham ladies through their paces last night as Balham's regular coach Rebecca Whitehead had a well deserved night off (she has been delivering Balham bootcamps 3 times a week for the past 3 months). After a thorough warm up I put the ladies through the following 10 station workout.
Bxoing jabs
Plank
Medicine ball squat push press
Band lateral raise
Bench step up
Bench push up
Skipping
Walking lunges
Bench triceps dips
  Kettle hip thrusters
The ladies spent 30 seconds at each station and did as many reps as possible in that time before moving on to the next station. I gave the ladies a minutes rest and then we did a further 2 rounds at each station.
The last 10 minutes of the evening were spent doing interval sprints. I put the ladies in pairs and asked one of them to sprint for 20 seconds then swap. We did this for 5 minutes. Sounds easy right? No way, everyone was totally wiped out at the end! We spent 8 minutes stretching to warm down and that was Tuesday night Balham bootcamp done and dusted. Well done to all who attended as that was a tough workout.
Expected results from Balham bootcamps
I was chatting to Theresa, one of our regular Balham bootcampers and she was really please that she had lost about 4kg in the last 2 or 3 months from bootcamping. Well done Theresa!