WHO ELSE WANTS TO LOSE A STONE IN
THE NEXT SIX WEEKS?
Without any gadgets or gimmicks and also without the need for a calorie
restricted diet.
The experts from Peak XV Fitness have lifted the curtain on their extremely
successful programme and disclose all their secrets in their highly
successful 6 Week Fat Loss Programme.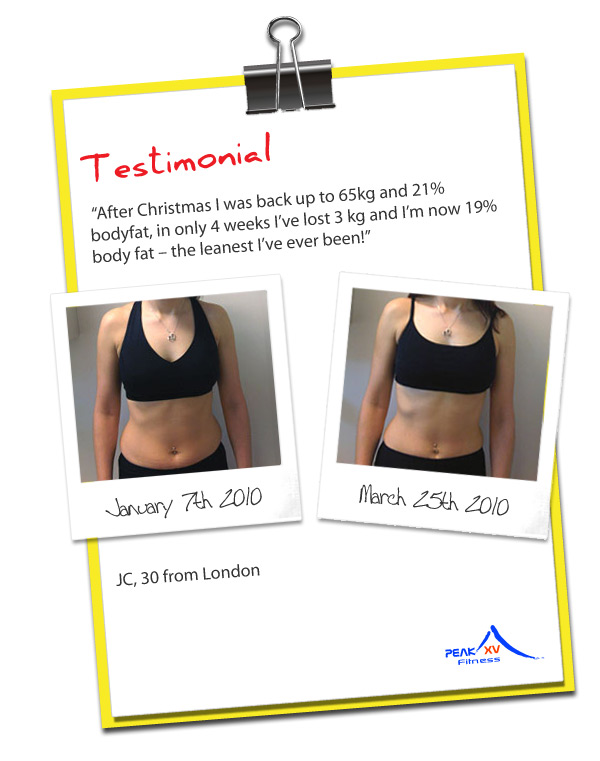 Have you ever struggled with your weight?

Have you followed various fad diets and exercise gimmicks only to be

left frustrated and disappointed?

Did your exercise programme stop producing results months ago?
Suppose in as little as six weeks you could discover how to eat delicious tasting food
and still lose weight. Imagine performing simple exercises, many of which can be
done at home, that will boost your metabolism and sculpt and tone your body.
Sounds too good to be true…. well it isn't really.
The 6 week fat loss programme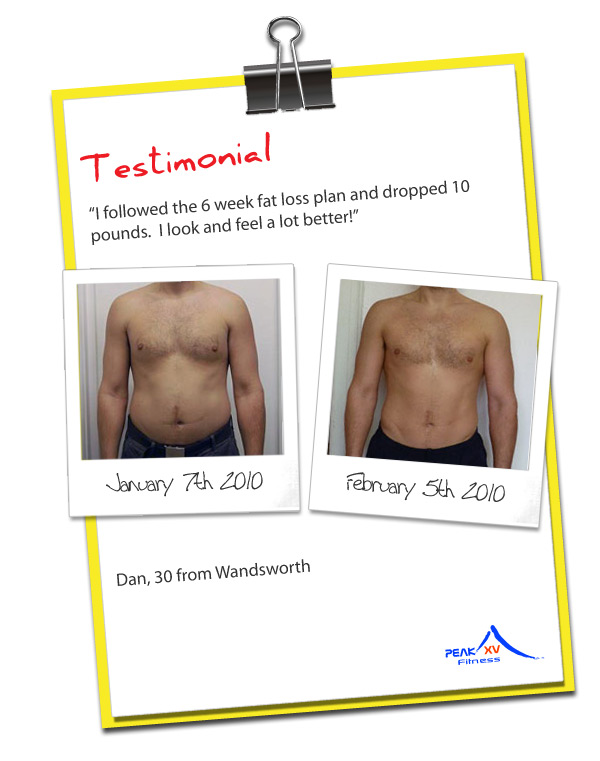 Peak XV Fitness, comprising industry expert brothers Chris and Steve
Hines, have put their 30 years experience into this one amazing
programme. This programme will help you:
Lose over 10 pounds of fat in six weeks

Look lean and toned in your swimsuit

Lower your risk for diseases such as diabetes and osteoporosis

Improve your confidence and self image

Make healthy eating and exercise a regular part of your life
OK, so what's the cost of this incredible
6 week fat loss programme?
Well, if you were to hire Chris or Steve privately, in their capacity as elite trainer or
nutritionist, a six week programme would cost you around £1000, under their
specialized supervision. Even without personal supervision you could expect this
6 Week Fat Loss Programme to retail at around £500. But don't worry, it's still not
going to cost you that much. Spending an hour each with both of these industry
experts wouldn't leave you much change from £200. However, their information
packed programme is only £97. In fact if you buy it today you get it for the giveaway
price of £27.
Is the body you've always dreamed of not worth £27?

Why so low?
Chris and Steve are incredibly busy and realise that not everyone has the time or
money to get into London for private consultations. So they wanted to create a
programme that was accessible to anyone and from which everyone can benefit.
As it is a digital product with no supervision on their part they were able to offer the
6 week fat loss programme to you at this ridiculously low price.
And there's more…
If you order TODAY you also receive these amazing bonuses:
Free introductory chapter to the book "The Low-down on Supplements".
An indispensible guide to buying supplements. This is the information that the
supplement industry probably doesn't want you to know. Value £9.99
A comprehensive Glycemic Load chart of all common foods. A useful tool to
see which foods are contributing to your weight gain and how to select sensible
alternatives. Value £5.99
Free e-report "Top 10 Weight Loss Books". A lifetime of learning. In this
selection of carefully chosen books is contained everything you need to know about
healthy eating, weight loss and delicious recipe ideas.  Value £9.99

 PEAK XV Fitness guarantees that if you are not completely satisfied with the 6 week
fat loss programme, for whatever reason, then you can request a full refund for upto
60 days after your purchase.  We will refund every penny of your money without
question.   The free bonus gifts will be yours to keep regardless.
Is that fair?
There is absolutely no risk on your part. In fact the only risk is looking and feeling
better than ever before!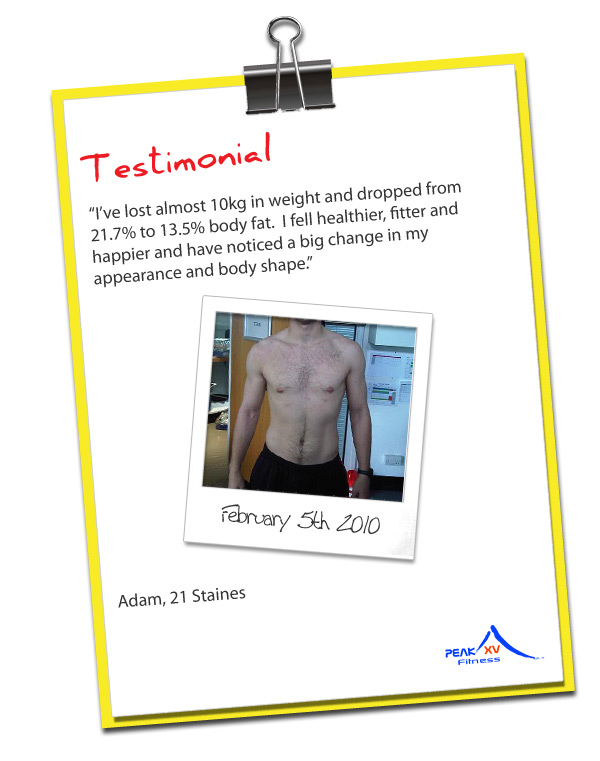 Look at it this way – £27 is really a painless drop in the ocean compared
to more weight gain, unhappiness and lack of self esteem.

The 6 week fat loss programme will be available for direct download immediately
after payment.   The zip file download will be approximately 7mb in size.  The zip file
contains the 82 page report in PDF format.  The PDF can be viewed with the Adobe
Reader which can be downloaded HERE.
Don't forget, if you're not happy with the product, for whatever reason, you can
request a full refund within 60 days.
To contact us with any questions about this product please visit our contact page: